2020-03-16: First redPILOT CMMS live at Fleischwerk EDEKA Nord GmbH (NORDfrische Center)
We are proud to announce the first go-live of our Operational Excellence Maintenance system. The NORDfrische Center in Lüttow-Valluhn (Germany), a subsidiary of EDEKA Handelsgesellschaft Nord mbH, now manages all maintenance tasks using the redPILOT solution. After a record time set-up and configuration, the system went live in the beginning of February.
With the new redPILOT Computerised Maintenance Management System (CMMS), the NORDfrische Center on-site managers draw up shift plans in the Operational Excellence Planner and allocate service and repair tasks directly to the technicians. 12 resident engineers take care of a smooth operation at all times. They use the redPILOT app on their tablet to track their maintenance and repair tasks and handle all related documentation. Additionally, engineers can clock in and out directly in the CMMS app on their tablet. Also, the whole availability calculation and spare parts management is handled directly in the redPILOT maintenance tool. Thus, the spare parts stock is up-to-date at all times. In weekly Jour Fixes the reports – which are generated automatically by the CMMS – are discussed with the management team. Consequently, measures can be agreed in a timely manner to boost performance, if necessary.
The ground-breaking innovation of the redPILOT system however, is the continuous ingetration of all processes, performances and its costs, human and machine resources and their un-/availabilities to gain total operational excellence. As a result, the redPILOT CMMS prioritises maintenance tasks and thus minimises downtimes.
NORDfrische Center facts:
subsidiary of EDEKA Handelsgesellschaft Nord mbH
produces 1500 sausage- and meat-products
900 employees
supplies around 700 EDEKA and MARKTKAUF markets
January 2020: new distribution centre with KNAPP solution
---
2020-01-28: Do You Use Your Data Wisely?
Every minute, your warehouse systems gather huge amounts of data during operation. What do you do with it? Store it? Ditch it? How about using it? And actually enhance your future performance by using it.
The redPILOT Operational Excellence OPTIMISER does exactly that. By processing historical data and matching it with actual figures, the redPILOT solution gives you a forecast on shift end times.
On the one hand, if a shift will be finished early, employees who have overtime hours can go home before the planned shift end. On the other hand, you can react quickly and get additional workers, if your shift would otherwise last longer than planned.
This machine-based learning of the expected shift end time allows warehouse managers to react quickly, during shifts on overcapacities or bottlenecks – not only afterwards. Planning gets more accurate as you go. Overtime will be reduced or – even better – not generated at all, which will ultimately save costs.
---
2019-12-20: What a Year
Only a few days left in 2019. Time to look back on the year – and wow, what a year it was. Here are some of our highlights: Our customer base as well as our team almost doubled during the past 12 months. The redPILOT solution was installed and went live in 10 DCs in as many countries around the world. Several new features like the teamAPP and the Operational Excellence Maintenance tool (CMMS) were introduced.
The next year will start with more great projects with renown customers in the food, beauty, and fashion industry. But before diving into these new ventures it's time to celebrate and relax. So we wish you a very happy holiday season and a wonderful New Year.
---
2019-11-21: Maintenance Made Easy
We are delighted to present the new redPILOT module Operational Excellence MAINTENANCE which is designed to increase efficiency of warehouse resources even further. This new CMMS feature makes the structured and scheduled execution of maintenance measures easy.
The redPILOT Maintenance module will allow you to increase the availability of your technical equipment due to preventive maintenance management and will help to extend the lifespan of your machines by controlled repair management. Engineers document the maintenance and repair work directly on their mobile device where they can add photos or videos of the components and select spare parts that were used. In addition, you save a huge amount of time as there is no need to manually plot or schedule activities any more. Communication between maintenance and operations teams automatically improves due to direct integration of the maintenance management into warehouse operations.
So, to sum up, redPILOT Operational Excellence MAINTENANCE module will support you to:
reduce downtimes
increase efficiency
save costs and time
The redPILOT CMMS is available as stand-alone module or as part of the redPILOT software package. Do you want to know more about the new Operational Excellence MAINTENANCE module? Contact us now.
---
2019-11-11: Not So Cheesy After All
"You will get insights into decision making tools and the benefits of imporving an operation systematically, to achieve – as cheesy as may sound – operational excellence," Andreas Wipfler promised at the start of his presentation at the "Logistics & Transport" in Gothenburg last week. So after discussing the many challenges logistics companies face today, he presented features like the proactive bottleneck management and automated action alternative proposals, that will ultimately support managers to plan and drive their operation in the most efficient way.
The benefits of using such methods are manifold: they will increase overall efficiency, put employee skills to optimal use etc. Andreas pointed out "it will lower the cost per shipped unit, which is important to every operation and logistics manager everywhere and in every sector".
Afterwards, Dragisa Jovanovic, Business Development Manager at nowaste logistics, one of the biggest 3PL companies in Sweden, showed how they put theory into practice. Nowaste serves a big range of customers with a variety of goods in both e-commerce and wholesale, all having different peak seasons. This results in a very complex and demanding resource planning. Since using the redPILOT Operational Excellence Solution, they managed to increase the overall efficiency of their operation, which doesn't sound cheesy at all, does it?
---
2019-10-16: Operational Excellence in Action
A few days ago we had the chance to visit our customers Spar in Ebergassing and St. Pölten. Especially our new team members got many insights from the tour through the huge warehouses. We could experience first hand how they operate and how they use the redPILOT software. With our hosts we looked into the optimisation that is already achieved by using the redPILOT solution and also discussed future possibilities to enhance resource efficiency even further.
---
2019-09-16: How smart is your communication?
Our teamAPP for smartphones has just been successfully launched. Communication and planning with your team has never been easier!
By the click of a button, planning managers distribute shift plans from the redPILOT operational excellence software to their teams. Based on demand requirements, skills and employee specific configurations, you are able to enter planned absences, flexible working time wishes, as well as individual shift selection choices or even initiate shift swappings at the teamAPP.
This innovative tool increases flexibility, thus enhances employee satisfaction and at the same time decreases organisational effort. Want some more information? Click here to contact us and receive
our latest video.
---
2019-08-09: Hands-on Piloting
Usually, the redPILOT team works virtually to find the best course to run intralogistcs systems at the optimum level. But last week we got into the cockpit ourselves to show that we could also find the ideal course on the cart track. Lap times go better and better as the race progressed and in the end we got three lucky and really fast winners. Just as the pilots on the cart track, the redPILOT software continually improves and adjusts according to the requirements to achieve the best possible performance.
---
2019-04-17: MHI Award for Best IT Innovation
It is a great honor for us to be awarded by the American Material Handling Industry! To get nominated when so many great companies participate was already a cool achievement, but winning in our first year on the American market is really outstanding! Many Thanks to our global team who has proven to meet the requirements of our customers most important challenges.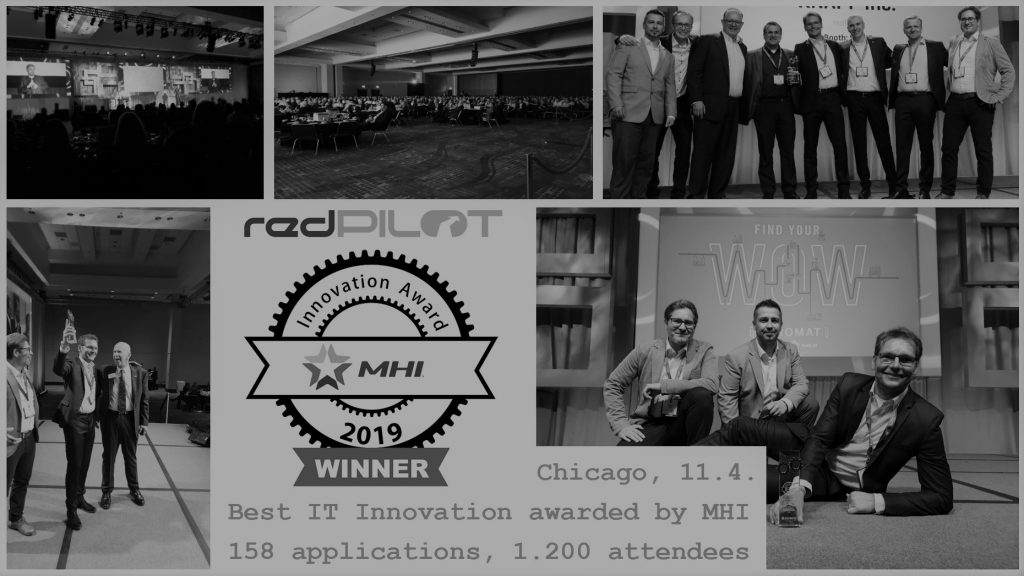 ---
2019-04-08: ProMat
We attended the leading trade show for manufacturing and supply chain industry in Chicago. Lots of interesting customer discussions make us feel to hit the right spot within the North American market. By now we have already 3 references in the US, and based on this promising outlook we will need to expand also our local team very fast!
---
2019-02-22: LogiMAT
Thanks to all visitors we have had a great show in Stuttgart!
---
2019-02-13: Customer Interview
After being implemented for more than a year on all sites of Edeka Rhein-Ruhr, we got the chance to interview all major key players. You can certainly request the interviews via our information request form
---
2019-01-31: Allied Electronics
Allied Electronics & Automation is a high service level, authorized distributor of industrial automation, interconnect, cabling, and electromechanical products. The company belongs to the Electrocomponents group which also holds the trading brand RS Components. At the highly automated warehouse in Fort Worth, TX our redPILOT Operational Excellence package will be implemented.
---
2018-12-14: Christmas celebration
---
2018-11-28: first customer in the Nordics!
We are proud to announce that Nowaste Logistics AB selected our outstanding Operational Excellence package to be implemented with all 3 modules at their distribution centers. Nowaste, being one of the fastest growing logistics service providers in the Nordics, sees innovation as one of their core strengths.
---
2018-09-28: first redPILOT customer days
On Wednesday and Thursday we have had great fun at our first customer event with selected logistics managers from various branches. Besides presenting insights into our Operational Excellence solution, and having the opportunity to see the redPILOT software in operation at 2 sites, as well as talking about the results we are driving, there was also one remarkable KPI: 269 beers have been consumed at the first restaurant while enjoying a great dinner!
Although this figure looks impressive, we usually nail down KPIs to what they really mean: when you understand that we have been a lot of people and the event was taking place in Duesseldorf [0,2l], not in Munich [1l], then this looks much more relaxing 😉
---
2018-07-24: registered trademark
We are proud to announce that redPILOT is now also a registered trademark.
---
2018-06-21: redPILOT goes to the US!
A leading US retailer has engaged with us to implement our Operational Excellence Software at 3 major sites in North America. Besides Operations Planning, Online Optimizing and Continuously Improving we will also specifically concentrate on the maintenance activities to streamline the processes of automated logistics systems.
---
2018-04-13: Modex show in Atlanta
Last Monday we have launched our solution on the American market and feel absolutely astonished by the great feedback! Some impressions of how we presented our innovation at the largest supply chain expo in North and South America.
---
2018-02-26: Bottleneck problems in intralogistics systems and a method of resolution
Together with the University of Leoben, Austria we have been working to find a way of identifying and resolving bottlenecks in the heterogenous world of intralogistics systems. Attached mul bottleneck detection document provides a very simple and brief overview of the problem and resolution with our very specifically developed shifting bottleneck detection algorithm. A more detailed research paper can be provided upon request.
---
2018-01-08: Spar Ebergassing Go-Live
Spar Austria in Ebergassing is able to plan their operations with our first module – Operational Excellence Planner – after a record implementation time lasting only 2 months from project kick-off to installation.
---
2017-12-07: Research-Award by the Styrian chamber of commerce
Our very own Ole Zechmann was awarded by the WKO Steiermark for his master thesis of "Verification and validation of optimization software for intralogistic systems". You will find the original article at following link.
---
2017-10-19: New Office
In Dobl we have found our new home providing excellent infrastructure for growth. Our new address is:
Gewerbeparkstrasse 17 8143 Dobl Austria
---
2017-09-18: First installation at Spar Austria
We are very proud to announce that redPILOT will be installed at the flagship-site of Spar Austria in Ebergassing!
---
2017-07-24: Edeka Case Study
We have now finalised a description about the redPILOT realisation at all sites of Edeka Rhein-Ruhr.
The information request form contains this additional this Case Study option.
---
2017-06-09: Introduction movie
We have just released a movie providing insights into the world of redPILOT!
Via the information request form you will be able to dive into a 2min explanation of our main idea and principles based on a real use case.
---
2017-04-05: First fiscal year
Last week our first fiscal year ended. We are very proud to have already 7 installations up and running with all three main modules:
Operational Excellence Planner
Operational Excellence Optimiser
Operational Excellence Improver
Our sales pipeline has us looking very enthusiastically into the new business year and hence we are eagerly searching for new team members!
---
2017-03-20: Hello World!
Today we have launched our new website. With this blog we want to share our views, ideas and thoughts about the optimisation of logistics applications.